Andrew and Nida Kruse met through a friend in Baton Rouge while they were both working as engineers. It was love at first sight, and now, after two beautiful children and a long career in engineering, the pair have teamed up to start a business that resonates with their values and beliefs and provides value to their community.
Master Artisan, Andrew Kruse, has been building things with his dad since he was ten years old, and that passion for woodworking has reignited into Illuminated Grain.
After working as a chemical engineer for 16 years, Andrew needed an outlet for his creativity, and when his wife Nida mentioned how it would be nice to have a river table, the proverbial lightbulb came on.
Andrew started working with wood again and also realized he had a natural eye and knack for working with epoxy. He poured the river table, and it turned out to be gorgeous. From there, Andrew and Nida realized that Andrew needed to bring his love and passion for woodworking to the forefront. After some research, it was made clear there was a problem in the shortage of high-quality, beautiful, sustainable furniture that Andrew knew he could solve, so he left his job and dove into the world of woodworking.
Andrew has a unique approach to custom-built furniture as he has an exceptional eye for design, supported by the mind of an engineer. This means all of our pieces are designed to be heirloom furniture, timeless in style and function, and built to last generations.
From a handmade solar kiln to serve as a value-added process for clients and other woodworkers to fully realized tree-to-table furniture and design pieces, Illuminated Grain does it all.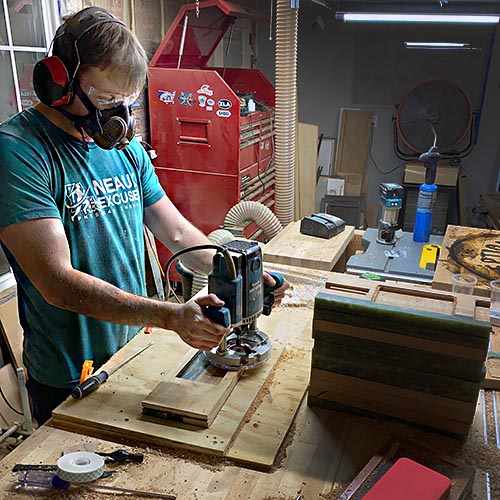 Our Mission
We find innovative, beautiful solutions to today's problems without passing the consequences onto tomorrow's earth. We aim for a net neutral carbon footprint and repurpose wood that otherwise would be a carbon burden by sequestering carbon and diverting useable products like urban lumber from the waste stream. Everything we do and every piece we build is done with a conscious mind for our planet and sustainability.
Our Equipment
Shapeoko 4 XXL CNC with Makita 1.25 HP router
Makita 3.25 HP plunge router
Kreg router table with Bosch 2.25 HP router
Dewalt 12" compound sliding miter saw
Dewalt 10" contractor table saw
Makita 6.25" plunge cut track saw
Lincoln 140 amp Mig welder
30" x 10 ft slab flattening table with router jig
Husqvarna 390XP 88cc chainsaw with Granberg 36" alaskan sawmill
Bosch orbital sander
Dewalt palm sander
Wen 13" bench planer
Bosch jig saw
Milwaukee 7.25" circular saw
Makita 18V drill and hammer drill
Bosch hammer drill